listen to the new single
~Lies & cigarettes~
ON SPOTIFY
more videos available on youtube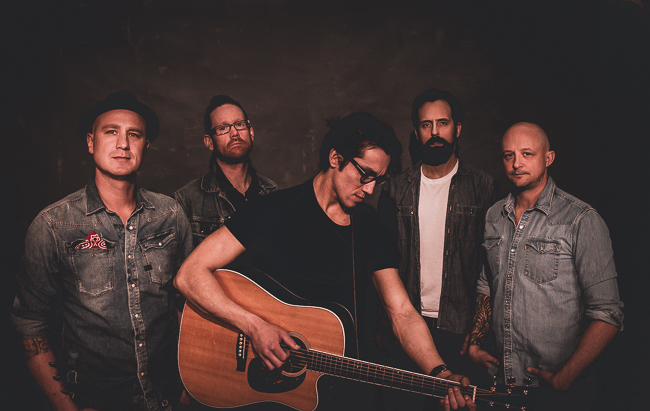 Jay Der Mat Cardinal Mike Nash Doc deGroot
the prairie states
The Prairie States was born out of a desire for a modern touch on a classic design. Focused on cadence and rhythms of 60's soul, 70's rock and teeming with a new modern country vibe, the band is poised to cut its own swath through the Canadian independent music scene.
Singer Mat Cardinal met the rest of the guys in the band through his relentless parade of open mic spots and cover shows in and around their hometown of Edmonton, Alberta. Band leader and guitarist Jeff Dick saw a spark and heard a roar from the young Cardinal and assembled a grizzled and veteran group to deliver this voice to the world.
The band spent 2 years writing and wood-shedding for their debut album, Lost In The Right Direction. Independently released in June 2018, these 8 undeniable tracks were nominated for the 2018 ACMA Album Of The Year. At the 2018 ACMA's the band took home awards for Rising Star and Fan's Choice. All three of the singles released from the record made the top 100 Mediabase Canadian Country Chart.
Shortly after releasing the album, the band was announced as one of the Top 12 artists to be included in the 2018 Project Wild Development Program. The program lasted 5 months, pushing the band to think and work beyond their comfort zone. Seminars lead to challenges, challenges lead to charitable giving, charitable giving lead to high pressure showcasing, and high pressure showcasing lead to building business proposals. When the program wrapped up, The Prairie States were awarded 1st place and provided the foundation to keep their trajectory moving upward.
The band is now planning to hit the road to celebrate... put their boots on stages, let the strings and cymbals ring out over the prairie nights. Having already shared stages with The Brothers Osborne, Charlie Major, Aaron Goodvin and Clayton Bellamy, the band is looking forward to the new opportunities coming their way.
The Prairie States is a group birthed from sweat, soul, and seasons with heart and momentum on their side.
The Kidney Foundation of Canada is near and dear to our hearts. We hold an annual charity event to support this great organization. Please follow the link below to donate.